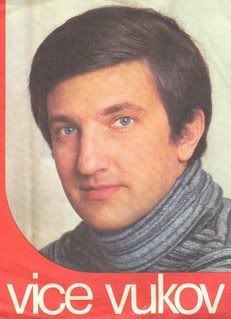 Vice Vukov (August 3, 1936, Šibenik - September 24, 2008, Zagreb) was a Croatian singer and politician. During the 1960s, Vice Vukov was one of the most popular singers in Yugoslavia. In 1963 he represented Yugoslavia at the ESC with the song Brodovi which came 11th and in 1965 he represented Yugoslavia again at the ESC, he came 12th with the song Čežnja. In 1969 he participated at the Yugoslav national final with the song Cvijece Za Mariju which came 8th. In 1970 he represented Yugoslavia at the World Popular Song Festival in Japan with the wonderful ballad Neka Cijeli Svijet which won an Outstanding Song Award and an Outstanding Performance Award.
In the aftermath of the Croatian Spring movement, he was branded a Croatian nationalist by Yugoslav authorities and had his apartment searched by the police during the 1972 wave of arrests of Croatian Spring leaders. Vice Vukov was on an Australian tour at that time. His wife warned him not to return because he could be arrested too, so instead he went to live in France, returning to Yugoslavia in 1976. By that time, the authorities had lost interest in his case, but his singing career was effectively over; he was blacklisted, barred from performing publicly and all his records were pulled out of stores.
In 1989 an album of his new songs, without his name on the cover, appeared in Croatian music stores, signalling the political change. Soon after, Vukov made a public comeback with a series of 14 sold-out concerts at Vatroslav Lisinski Concert Hall.
After the introduction of democracy to Croatia, Vice Vukov became a prominent supporter of the Social Democratic Party of Croatia. He ran several times for the seat in Croatian Parliament, finally succeeding in 2003. In 2001 he was suggested as ambassador to Switzerland.