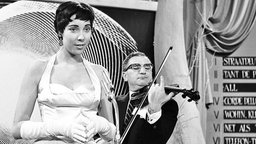 Corry Brokken and Sem Nijveen
Date: March 3, 1957
Venue: Großer Sendesaal des Hessisches Rundfunks, Frankfurt am Main, Germany Presenter: Anaid Iplicjian
Orchestra: Tanzorchester des Hessischen Rundfunks
Conductor: Willy Berking
Director: Michael Kehlmann
Scruteneer: -
Host broadcaster: HR ARD
Price presenter: Ederhard Beckmann
Interval act: -
Duration: 1 hour, 9 minutes
Number of entries: 10
Debuting countries: Denmark, Austria and the UK.
Winning Song: Net Als Toen - Corry Brokken, The Netherlands
Voting system: Each country had 10 jury members who each awarded 1 point to their favourite song.
Entries:
01. Belgium: Bobbejaan Schoepen - Straatdeuntje (8th place, 5 points)
02. Luxembourg: Danièle Dupré - Amours Mortes (tant de peine) (4th place, 8 points)
03. United Kingdom: Patricia Bredin - All (7th place, 6 points)
04. Italy: Nunzio Gallo - Corde Della Mia Chitarra (6th place, 7 points)
05. Austria: Bob Martin - Wohin, Kleines Pony? (10th place, 3 points)
06. Netherlands: Corry Brokken - Net Als Toen (1st, 31 points)
07. Germany: Margot Hielscher - Telefon, Telefon (4th, 8 points)
08. France: Paule Desjardins - La Belle Amour (2nd place, 17 points)
09. Denmark: Birthe Wilke & Gustav Winckler - Skibet Skal Sejle I Nat (3rd, 10 points)
10. Switzerland: Lys Assia - L'enfant Que J'étais (8th place, 5 points)
The Eurovision Song Contest 1957 was the 2nd Eurovision Song Contest and was held on March 3 1957 in Frankfurt am Main. Like the first contest, this one was still mainly a radio programme, but there was a noticeable increase in the number of people with televisions. It was won by the Netherlands with Net Als Toen, performed by Corry Brokken and written by Guus Jansen and Willy van Hemert.
For some time, a rumour has existed that the German entry Im Wartesaal Zum Großen Glück by Walter Andreas Schwarz came 2nd at the 1956 contest and that is why Germany hosted the Eurovision Song Contest 1957. In fact, the rule stating that the winning nation hosted the next year's Eurovision had not yet been conceived, and it was planned at the time that each participating country would take it in turns to host the event. However, as more countries wished to participate, this became impractical.
Location
The venue chosen to host the second contest was the Großer Sendesaal des hessischen Rundfunks, a building, music hall and former television studio based in Frankfurt am Main. It was the former headquarters for the Hessischer Rundfunk broadcast. Today it is used as a music hall.
Format
In this year's contest the Italian entry lasted for 5:09 minutes, whilst the UK's entry lasted for only 1:52 minutes. It was because of songs like the Italian that a rule was eventually introduced restricting each song to a maximum of 3 minutes; this rule still applies today.
Gustav Winckler & Birthe Wilke
Birthe Wilke and Gustav Winckler at the end of their song exchanged the longest kiss that has ever occurred in the contest. This was due to a member of the production staff forgetting to give a pre-arranged sign that the kiss should end.
The German Margot Hielscher can be considered as the first artist in the contest history who made use of attributes. During her song Telefon Telefon she held, very appropriate, a telephone in her hand.
This was the first year where the juries were contacted by telephone.
Returning artists
Corry Brokken and Lys Assia also participated at the ESC in Lugano in 1956.