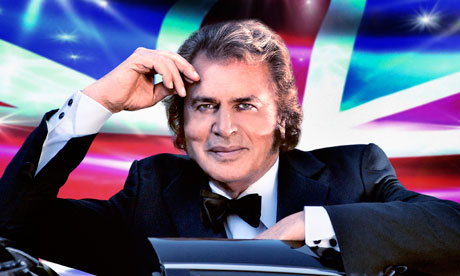 Engelbert Humperdinck, born as Arnold George Dorsey on May 2 1936, is a British pop singer, best known for his No 1 hits Release Me, The Last Waltz, After The Lovin' and A Man Without Love.
Engelbert was one of ten children born in Madras, India. His family moved to Leicester, England, when he was 10. He soon showed an interest in music and began learning the saxophone. By the early 1950s he was playing saxophone in nightclubs.
Though Engelbert's music career was interrupted by his national service in the British Army Royal Corps of Signals during the middle 1950s, he got his first chance to record in 1958 with Decca Records after his discharge. His first single, I'll Never Fall in Love Again, was not a hit, but Engelbert would record for the same company almost a decade later.
In 1965, Engelbert teamed with his former roommate, Gordon Mills, who had become a music impresario and the manager of Tom Jones. Aware that Engelbert had been struggling for several years to become successful in the music industry, Gordon Mills suggested a name-change to the more arresting Engelbert Humperdinck, borrowed from the 19th-century composer of operas such as Hansel and Gretel. Gordon also arranged a new deal for him with Decca Records.
Engelbert enjoyed first real success in Belgium in 1966, where he and four others represented England in the annual Knokke song contest. In October of the same year, he was on stage in Mechelen. He also made a mark on the Belgian charts with Dommage, Dommage and an early music video was filmed, with Engelbert in the harbour of Zeebrugge.
In early 1967 the changes paid off when Engelbert's version of Release Me, made the top ten in the United states and in Britain. Another groundbreaking video showed Engelbert tied up with a lasso. Release Me spent 56 weeks in the Top 50.
Engelbert's easygoing style and good looks earned him a large following, particularly among women. His hardcore female fans, who included the young Princess Anne, called themselves Humperdinckers. Release Me was succeeded by two more hit ballads, There Goes My Everything and The Last Waltz.
His own television programme, The Engelbert Humperdinck Show, was less successful, being cancelled after six months.
By the start of the 1970s, Engelbert had settled into a busy schedule of recordings, and a number of signature songs emerged from this period: We Made It Happen, Sweetheart, Another Time, Another Place, and Too Beautiful To Last.
As his kind of balladry became less popular, and after he adopted some Broadway influences, Engelbert concentrated on selling albums and on live performances, developing lavish stage presentations that made him a natural for Las Vegas and similar venues.
In 1976, Engelbert recorded After the Lovin' which was a a Top-10 hit in the US. The song was nominated for a Grammy Award, it went Gold, and won the most played juke box record of the year award. The album of the same name reached the Top-20 on the US charts.
In the 1980s, approaching his fiftieth birthday, Engelbert continued recording albums regularly and performing as many as 200 concerts a year, yet maintained a strong family life. He and wife Patricia raised four children (Bradley, Scott, Jason and Louise) who are said to have become involved in their father's career, even as the family alternated between homes in England and in southern California.
Engelbert Humperdinck was awarded a star on the Hollywood Walk of Fame in 1989 and won a Golden Globe Award as entertainer of the year, while also beginning major involvement in charitable causes such as the Leukemia Research Fund, the American Red Cross, the American Lung Association, and several AIDS relief organisations.
In 1989 he recorded the album Step Into My Life, released as Ich Denk An Dich in Germany. All the songs on the album were written by Dieter Bohlen, and some were written with Barry Mason. Step Into My Life (Ich Denk An Dich) contained the singles Red Roses For My Lady, I Wanna Rock You In My Wildest Dreams, and a version of Dieter Bohlen's first hit, from the album Modern Talking, You're My Heart, You're My Soul.
Engelbert hit the top five British album charts in 2000 with Engelbert At His Very Best, and returned to the top five four years later, after he appeared in a John Smith's TV-advertisement.
In the spring of 2003, Engelbert collaborated with Grammy Award-Winning artist-producer Art Greenhaw to record the roots gospel album Always Hear the Harmony: The Gospel Sessions.
In August 2005, he auctioned his Harley-Davidson motorcycle on eBay to raise money for the County Air Ambulance in Leicestershire, where he spent much of his British youth.
In September 2007, Engelbert released The Winding Road, a tribute to British composers.
On 25 February 2009, Leicester City Council announced that Engelbert would be given the Honorary Freedom of Leicester alongside author Sue Townsend and former professional footballer Alan Birchenall.
Humperdinck has a high degree of popularity in India, where he has performed, and where he has travelled for personal visits to his mother's family.
On March 1 2012, the BBC announced that Engelbert Humperdinck will represent the United Kingdom in the final of the Eurovision Song Contest 2012, to be staged in Baku, Azerbaijan, on 26 May. He will sing a track produced by Grammy award-winning producer Martin Terefe and co-written by Sacha Skarbek. The recording of the track took place in London, Los Angeles and Nashville, Tennessee. When his participation was announced, Engelbert was set to become the oldest singer to ever participate in the contest at the age of 76, however it was announced shortly afterwards that Natalya Pugachyova, who was already 76, would represent Russia as part of the band Buranovskiye Babushki, and would take the record as oldest singer in the contest, but Engelbert Humperdinck will still be the oldest male singer (the oldest person to appear on stage was a backing artist for Armenia in 2010).