Date: December 3 2011
Venue: Karen Demirchyan Sports and Concerts Complex, Yerevan, Armenia
Presenters: Gohar Gasparyan, Avet Barseghyan
Host broadcaster: ARMTV
Interval act: Molly Sanden, Sirusho and Vladimir Arzumanyan
Number of entries: 13
Debuting countries: -
Returning coubtries: Bulgaria
Withdrawing countries: Malta, Serbia
Voting system: Citizens of each participating country vote by telephone and SMS message, which counts for 50%. Each country's 10 favourites are awarded 1 to 8, 10 and 12 points based on the number of votes. Results 1-5 are automatically displayed on-screen, then each country announces 6-8, 10 and 12 points. A jury in each country also has a 50% say in the outcome.
Winner: Candy music - CANDY, Georgia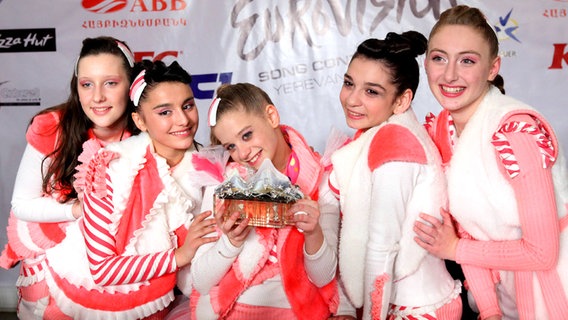 Entries
01. Russia: Katya Ryabova - Kak Romeo i Dzhulyetta (4th place, 99 points)
02. Latvia: Amanda Bašmakova - Mēness suns (13th place, 31 points)
03. Moldova: Lerika - No, no (6th place, 78 points)
04. Armenia: Dalita - Welcome to Armenia (5th place, 85 points)
05. Bulgaria: Ivan Ivanov - Supergeroy (8th place, 60 points)
06. Lithuania: Paulina Skrabytė - Debesys (10th place, 53 points)
07. Ukraine: Kristall - Evropa (11th place, 42 points)
08. F.Y.R. Macedonia: Dorijan Dlaka - Žimi ovoj frak (12th place, 31 points)
09. The Netherlands: Rachel - Ik ben een teenager (2nd place, 103 points)
10. Belarus: Lidiya Zablotskaya - Angely dobra (3rd place, 00 points)
11. Sweden: Erik Rapp - Faller (9th place, 57 points)
12. Gerogia: CANDY - Candy music (1st place, 108 points)
13. Belgium: Femke - Een kusje meer (7th place, 64 points)
The Junior Eurovision Song Contest 2011 was the ninth edition of the contest, and took place in Yerevan, Armenia at the recently renovated Karen Demirchyan Sports and Concerts Complex. It was the first time in history of the Junior Eurovision Song Contest that the contest was held in last year's winning country. Public Television of Armenia ARMTV was the main organizer of the show, being provided financial aid from the European Broadcasting Union made of entrance fees from the participating broadcasters, while Swedish company HD Resources assisted with the technical side of the production.
The winner was the group Candy from Georgia with the song Candy Music. This is Georgia's second victory in the Junior Eurovision Song Contest.
Logo and graphic design
In May 2011, ARMTV announced a competition for children to design the official logo of the contest, which was due to be presented on June 1. However, in the end the logo was designed by a professional team from ARMTV, the EBU and Studio of Anton Baranov from Belarus, who also designed logo of Junior Eurovision Song Contest 2010 and was presented on July 15 2011. The logo depicts equalizer bars in the shape of a mountain, hinting to the famous Mount Ararat.
Participants
On 15 July, the EBU announced that 12 countries would compete in the upcoming contest. San Marino was to compete for the first time, while Latvia, Serbia and Malta withdrew. EBU also had been negotiating with several other countries, including Italy and Spain, but they were not able to confirm their participation due to the shortage of time. On 15 August, it was announced that Bulgaria had joined the list, returning after a two-year absence from the contest. On 9 September Latvia reversed its decision to withdraw from the contest and would now send a participant. However, on October 7 it was announced that San Marino would not be present in Armenia as they were not able to find a suitable participant in time for the contest, hoping to send an entry to the 2012 edition. Therefore a total of 13 countries took part in Armenia.
Voting rules changes
Changes to the voting included that televoting was possible after all songs had been performed, and not from the beginning of the show as in previous years – returning to the rules active in 2003–2005. Each country's spokesperson also announced all the points during their presentation, due to the lower number of participating countries, as it was done in 2003–2004.
Returning artists
Even though rules of Junior Eurovision do not allow participation of returning artists - EBU issued special permission for Russian entry 2011 performed by participant of Junior Eurovision Song Contest 2009 Ekaterina Ryabova, which is first similar case in history of the contest. According to Sietse Bakker, EBU coordinator - EBU may also drop this rule completely, starting from 2012. Notably, Ekaterina had also already applied to national preselection in 2010 as well, but was disqualified following the existing rule.