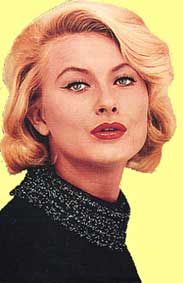 The Swedish pre-selection for the Eurovision Song Contest 1963 (known as Eurovisionsschlagern, Svensk final) was the selection for the sixth song to represent Sweden at the Eurovision Song Contest. It was the fifth time that this system of picking a song had been used. The Swedish Final was held on February 16th in Stockholm, hosted by Sven Lindahl. Each of the songs was performed twice (firstly with a big orchestra, then with a small orchestra) and the winner was chosen by a jury of "experts", with only the top 3 songs being announced. 816 songs were submitted to SVT for the competition. The final was broadcast on Sveriges Radio TV but was not broadcast on radio. Monica Zetterlund performed En gång i Stockholm at Eurovision, and became the first and only artist to score "nul points" for Sweden.
Results:
1. En gång i Stockholm - Monica Zetterlund/Carli Thornehave
2. Storstadsmelodi - Gerd Söderberg/Roffe Berg, Hasse Burman & Charlie Norman
3. Twist till menuett - Carli Thornehave/Lars Lönndahl
Eliminated songs:
Vårens flickparad - Lars Lönndahl/Gunnar Wiklund
Hong Kong-sång - Roffe Berg, Hasse Burman & Charlie Norman/Gerd Södergren
Säg varför - Anna-Lena Löfgren/Ann-Louise Hanson
Rosen och vinden - Per Lindqvist & Ulf Lindqvist/Lily Berglund
Fröken Eko - Lily Berglund/Mona Grain
Scheherazade - Gunnar Wiklund/Tommy Jacobsson
Jag är så trött på allt det här - Mona Grain/Ann-Catrine Widlund
Zum zum zum, lilla sommarbi - Ann-Louise Hanson/Per Lindqvist & Ulf Lindqvist
***
Eva Monica Zetterlund (born Nilsson September 20 1937 in Hagfors, died May 12 2005) was a Swedish singer and actress.
Monica Zetterlund was a singer particularly noted for her jazz work. She began by learning the classic jazz songs from radio and records, initially not knowing the language and what they sang about in English. She went for the melody, rhythm and feeling.
Monica released many very successful records in Sweden. She also interpreted the works of many Swedish national singer-songwriters such as Evert Taube, Olle Adolphson and Povel Ramel, and all through her life interpreted the works of international and American jazz musicians/song writers. She worked with some of the greatest international jazz names including Louis Armstrong, Bill Evans, Stan Getz, Steve Kuhn and Quincy Jones, and in the Scandinavian jazz world with people like Georg Riedel, Egil Johansen, Arne Domnérus, Svend Asmussen and Jan Johansson.
Her long career also included the song En gång i Stockholm; a jazz ballad with which she represented Sweden in the 1963 Eurovision Song Contest. She finished last,mainly because the song genre was not suitable for the competition. Monica scored the infamous null points, but still managed to remain successful in Sweden. Her collaboration with the comic duo Hasseåtage eventually led to a stage career in revues and films. She appeared in more than 20 films and television series throughout her life.
She suffered from severe scoliosis, and as a result was forced to retire from performing in 1999. She made her last lengthy official tour in 1997, and gave one of her last concerts at Sweden's Hultsfred Festival. In the last years of her life she used a wheelchair because of her scoliosis. On 12 May 2005, she died following an accidental fire in her apartment in Stockholm.