Tessa Beaumont and Jean Claude Pascal
Date: March 18th 1961
Venue: Palais des Festivals et des Congrès Cannes, France
Presenter: Jacqueline Joubert
Orchestra: Franck Pourcel Orchestra
Conductor: Franck Pourcel
Director: Marcel Cravenne
Scruteneer: -
Host broadcaster: RTF
Price presenter: Tessa Beaumont
Interval act: Tessa Beaumont & Max Bozzoni
Duration: 1 hour, 35 minutes
Number of entries: 16
Debuting countries: Finland, Spain, Yugoslavia
Returning countries: -
Withdrawing countries: -
Winning Song: Nous Les Amoureux - Jean-Claude Pascal, Luxembourg
Voting system: Each country had 10 jury members who each awarded 1 point to their favourite song
Entries:
01. Spain: Conchita Bautista - Estando Contigo (9th place, 8 points)
02. Monaco: Colette Deréal - Allons, allons les enfants (10th place, 6 points)
03. Austria: Jimmy Makullis - Sehnsucht (15th place, 1 point)
04. Finland: Laila Kinnunen - Valoa ikkunassa (10th place, 6 points)
05. Yugoslavia: Ljiljana Petrović - Neke davne zvezde (8th place, 9 points)
06. The Netherlands: Greetje Kauffeld - Wat een dag (10th place, 6 points)
07. Sweden: Lill-Babs - April, April (14th place, 2 points)
08. Germany: Lale Andersen - Einmal sehen wir uns wieder (13th place, 3 points)
09. France: Jean-Paul Mauric - Printemps, avril carillonne (4th place, 13 points)
10. Switzerland: Franca di Rienzo - Nous aurons demain (3rd place, 16 points)
11. Belgium: Bob Benny - September, gouden roos (15th place, 1 point)
12. Norway: Nora Brockstedt - Sommer i Palma (7th place, 10 points)
13. Denmark: Dario Campeotto - Angelique (5th place, 15 points)
14. Luxembourg: Jean-Claude Pascal - Nous les amoureux (1st place, 31 points)
15. UK: The Allisons - Are you sure? (2nd place, 24 points)
16. Italy: Betty Curtis - Al di là (5th place, 12 points)
Dick Schallies (composer of Wat een dag) and Greetje Kauffeld
The Eurovision Song Contest 1961 was the sixth Eurovision Song Contest. It was held on March 18 1961 and was the first to take place on a Saturday night, a tradition that has continued into modern times. It was hosted in the Palais des Festivals et des Congrès located in Cannes, France which was also the 1959 venue. Luxembourg won for its first time with the song Nous les amoureux performed in French by Jean-Claude Pascal and written by Jacques Datin and Maurice Vidalin. Due to the contest overrunning in time, the winning song's reprise was not shown in the UK.
Location
The contest returned to the Palais des Festivals et des Congrès, which also played host venue for the 1959 contest, a building built in 1949 to host the Cannes Film Festival. The original building was located on the boulevard of Promenade de la Croisette on the present site of the JW Marriott Cannes. In response to the growing success of the Festival and the advent of the first business conventions, such as the MIPTV Media Market.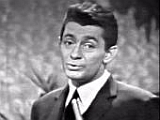 Format
Jacqueline Joubert presented the show, having already done so two years earlier in 1959. The stage used for the 1961 Contest was notably larger than in previous years and was decorated with flowers. It is noticeable that during the voting, Luxembourg gave the UK 8 points, and Norway also gave Denmark 8 points. It was the largest amount of points given to a country by a single jury since 1958, when Denmark provided France with 9 points. Such a high number of points obtained by a country wouldn't be achieved until 1970, when Ireland would receive 9 points from Belgium.
Participating countries
A total of sixteen countries took part in the Contest, including the three debuting countries: Finland, Spain, and Yugoslavia. There were no returning or withdrawing countries this particular year.
Returning artists
The contest saw the return of two artist this year with the Belgian representative, Bob Benny, who previously participated in the 1959 contest; and Nora Brockstedt who performed for Norway in 1960.