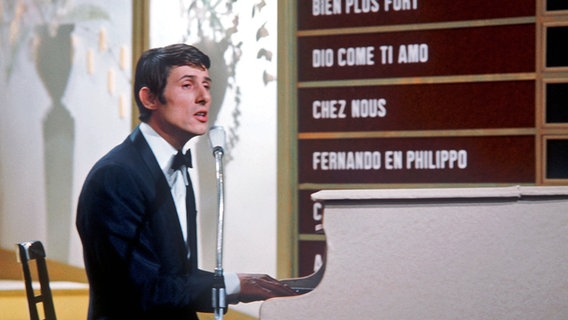 Udo Jürgens
Date: March 5, 1966
Venue: Villa Louvigny,Luxembourg City, Luxembourg
Presenter: Josiane Chen
Orchestra: Jean Roderès Orchestra
Conductor: Jean Roderès
Director: René Steichen
Scruteneer: Clifford Brown
Host broadcaster: CLT
Price presenter: France Gall
Interval act: Jean Roderès
Duration: 1 hour, 28 minutes
Number of entries: 18
Debuting countries: -
Returning countries: -
Withdrawing countries: -
Winning Song: Merci, Chérie - Udo Jürgens, Austria
Voting system: Each country had 10 jury members who distributed three points among their one, two, or three favourite songs. The points were totalled and the first, second, and third placed songs were awarded 5, 3, and 1 votes in order. If only one song got every point within the jury it would get all 9 points. If only two songs were chosen, the songs would get 6 and 3 points in order.
Entries
01. Germany: Margot Eskens - Die Zeiger der Uhr (10th place, 7 points)
02. Denmark: Ulla Pia - Stop mens legen er go (14th place, 4 points)
03. Belgium: Tonia - Un peu de poivre un peu de sel (4th place, 14 points)
04. Luxembourg: Michèle Torr - Ce soir je t'attendais (10th place, 7 points)
05. Yugoslavia: Berta Ambrož - Brez besed (7th place, 9 points)
06. Norway: Åse Kleveland - Intet er nytt under solen (3rd place, 15 points)
07. Finland: Ann Christine - Playboy (10th place, 7 points)
08. Portugal: Madalena Iglésias - Ele e ela (13th place, 6 points)
09. Austria: Udo Jürgens - Merci, Chérie (1st place, 31 points)
10. Sweden: Lill Lindfors & Svante Thuresson - Nygammal vals (2nd place, 16 points)
11. Spain: Raphael - Yo soy aquél (7th place, 9 points)
12. Switzerland: Madeleine Pascal - Ne vois-tu pas? (6th place, 12 points)
13. Monaco: Tereza Kesovija - Bien plus fort (17th place, 0 points)
14. Italy: Domenico Modugno - Dio, come ti amo (17th place, 0 points)
15. France: Dominique Walter - Chez nous (16th place, 1 point)
16. The Netherlands: Milly Scott - Fernando en Fillipo (15th place, 2 points)
17. Ireland: Dickie Rock - Come back to stay (4th place, 14 points)
18. UK: Kenneth McKellar - A man without love (9th place, 8 points)
The Eurovision Song Contest 1966 was the 11th edition and was held on 5 March 1966 in Luxembourg, Luxembourg. The rule stating that a country could only sing in any of its national languages was originally created in this year. This was possibly created due to the 1965 Swedish entry, Absent Friend which was sung in English. The winner of the 1966 contest was Austria with the song Merci, Chérie which was performed and composed by Udo Jürgens. Thomas Hörbiger wrote the lyrics to the song.
Location
The venue chosen to host the 1966 contest was the Villa Louvigny, which has also hosted the Eurovision Song Contest 1962. The building served as the headquarters of Compagnie Luxembourgeoise de Télédiffusion, the forerunner of RTL Group. It is located in Municipal Park, in the Ville Haute quarter of the centre of the city.
Lill Lindfors & Svante Thuresson
Format
The backdrop on the stage was a large moving mobile, which distracted the attention from the singers.
Domenico Modugno, who performed for Italy, refused to use the orchestra and used a small combo to accompany him instead. Domenico Modugno thought the orchestra wasn't good enough.
During the voting process, the presenter (Josiane Chen) accidentally greeted United Kingdom by saying "Good night, London.", then, she realized the mistake and said "Good evening, London.", after. Michael Aspel, who was the spokesperson for the United Kingdom, at that time, responded by saying "Good morning, Luxembourg."
1966 marked the year the first ever black singer graced the Eurovision stage, Milly Scott representing the Netherlands. She was also the first singer to use a portable microphone. This was also the last contest that Denmark participated in until 1978, more than a decade later.
Participating countries
All countries which participated in the 1965 contest returned for a second consecutive year. There were no new nations, nor any returning, nor withdrawals.
Returning artists
Two artists returned for a second time in this year's contest. Udo Jürgens from Austria who's previous participations were in 1964 and 1965; and Domenico Modugno from Italy, who last participated in 1958 and 1959.