Lulu, Salomé, Massiel, Frida Boccara and Lenny Kuhr
Date: March 29, 1969
Venue: Teatro Real, Madrid, Spain
Presenter: Laurita Valenzuela
Orchestra: Augusto Algueró Orchestra
Conductor: Augusto Algueró
Director: Ramon Diez
Scruteneer: Clifford Brown
Host broadcaster: TVE
Price presenter: Massiel
Interval act: La España diferente
Duration: 1 hour, 48 minutes
Number of entries: 16
Debuting countries: -
Returning countries: -
Withdrawing countries: Austria
Winning Songs:
Un Jour Un Enfant - Frida Boccara, France (Emil Stern / Eddy Marnay)
Vivo Cantando - Salomé, Spain (Maria José de Cerato / Aniano Alcalde)
De Troubadour - Lenny Kuhr, The Netherlands (David Hartsema / Lenny Kuhr)
Boom Bang-A-Bang - Lulu, UK (Alan Moorhouse / Peter Warne)
Voting system: Each country had 10 jury members who each cast one vote for their favourite song.
Entries
01. Yugoslavia: Ivan & 4M - Pozdrav svijetu (13th place, 5 points)
02. Luxembourg: Romuald - Catherine (11th place, 7 points)
03. Spain: Salomé - Vivo cantando (1st place, 18 points)
04. Monaco: Jean Jacques - Maman, Maman (6th place, 11 points)
05. Ireland: Muriel Day - The wages of love (7th place, 10 points)
06. Italy: Iva Zanicchi - Due grosse lacrime bianche (13th place, 5 points)
07. UK: Lulu - Boom bang-a-bang (1st place, 18 points)
08. The Netherlands: Lenny Kuhr - De troubadour (1st place, 18 points)
09. Sweden: Tommy Körberg - Judy, min vän (9th place, 8 points)
10. Belgium: Louis Neefs - Jennifer Jennings (7th place, 10 points)
11. Switzerland: Paola del Medico - Bonjour, bonjour (5th place, 13 points)
12. Norway: Kirstie Sparboe - Oj, oj, oj, så glad jeg skal bli (16th place, 1 point)
13. Germany: Siw Malmkvist - Primaballerina (9th place, 8 points)
14. France: Frida Boccara - Un jour, un enfant (1st place, 18 points)
15. Portugal: Simone de Oliveira - Desfolhada portuguesa (15th place, 4 points)
16. Finland: Jarkko & Laura - Kuin silloin ennen (12th place, 6 points)
The Eurovision Song Contest 1969 was the 14th in the series. Four countries won the contest, the first time ever a tie-break situation had occurred. However, there was no rule at the time to cover such an eventuality, so all four countries were declared joint winners.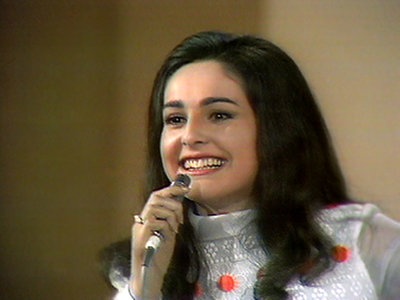 France's win was their fourth. France became the first country to win the contest four times. The Netherlands' win was their third. Spain and the United Kingdom each won for the second time. And it was the first time that any country (Spain, in this case) had a winning ESC entry two years in a row.
Location
The venue selected to host the 1969 contest was the Teatro Real, an opera house located in Madrid. From 1867 it housed the Madrid Royal Conservatory until 1925 when a Royal Order on 6 December called for eviction owing to the damage that the construction of the Metro de Madrid had caused to the building. The theatre reopened in 1966 as a concert theatre and the main concert venue of the Spanish National Orchestra and the RTVE Symphony Orchestra.
Salomé
Format
In 1969, the stage featured an metal sculpture created by surrealist Spanish artist Salvador Dalí, who also was responsible for designing the publicity material for the 1969 contest.
It was the first time that the contest resulted in a tie for first place, with four countries each gaining 18 votes. Since there was at the time no rule to cover such an eventuality, all four countries were declared joint winners. This caused an unfortunate problem concerning the medals due to be distributed to the winners as there were not enough to go round, so that only the singers received their medals on the night: the songwriters, to some disgruntlement, were not awarded theirs until after the date of the contest.
Had the later tie-break rule been in place (the country receiving the highest score from any other country, as used in 1991), the Netherlands would have won, having received 6 points from France. United Kingdom would then have been runner up, having received 5 points from Sweden. On the other hand, with the present tie-break rule been in place (i.e. the song receiving votes from the most countries, then the song receiving the most high votes in case of another tie), France would have been the overall winner, with Spain in 2nd place. Both countries received votes from 9 countries, but France received 4 points from 2 countries whereas Spain received 3 points as their highest vote.
Participating countries
Austria was absent from the contest, refusing to participate in a contest staged in Franco-ruled Spain.
Returning artists
Five artists returned in this year's contest. Louis Neefs for Belgium who last represented the nation in 1967; Germany's Siw Malmkvist who was also the participant for Sweden in 1960. Romuald for Luxembourg who represented Monaco last time in 1964; Norway's Kirsti Sparboe who represented the Scandinavian nation twice before in 1965 and 1967; and finally Simone de Oliveira who also represented Portugal in 1965.