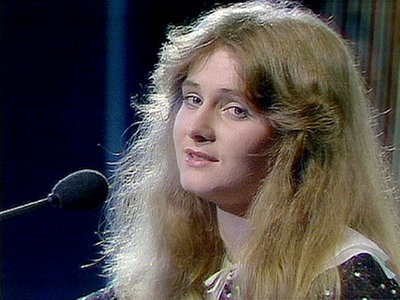 Date: April 24, 1982
Venue: Harrogate International Centre, Harrogate, United Kingdom
Presenter: Jan Leeming
Conductor: Ronnie Hazlehurst
Director: Michael Hurll
Scruteneer: Frank Naef
Host broadcaster: BBC
Price presenter: Sir Ian Trethowen
Interval act: Pictures from Yorkshire and Castle Howard
Duration: 2 hours, 11 minutes
Number of entries: 18
Debuting countries: -
Returning countries: -
Withdrawing countries: France, Greece
Winning Song: Ein bißchen Frieden - Nicole, Germany
Voting system: Each country awarded 12, 10, 8-1 points to their 10 favourite songs
Entries
01. Portugal: Doce - Bem bom (13th place, 32 points)
02. Luxembourg: Svetlana - Cours après le temps (6th place, 78 points)
03.
orway: Jahn Teigen and Anita Skorgan - Adieu (12th place, 40 points)
04. UK: Bardo: One step further (7th place, 76 points)
05. Turkey: Neço - Hani (15th place, 20 points)
06. Finland: Kojo - Nuku pommiin (18th place, 0 points)
07. Switzerland: Arlette Zola - Amour on t'aime (3rd place, 97 points)
08. Cyprus: Anna Vissi - Moni i agapi (5th place, 85 points)
09. Sweden: Chips - Dag efter dag (8th place, 67 points)
10. Austria: Mess - Sonntag (9th place, 57 points)
11. Belgium: Stella - Si tu aimes ma musique (4th place, 96 points)
12. Spain: Lucia - El (10th place, 52 points)
13. Denmark: Brixx - Video video (17th place, 5 points)
14. Yugoslavia: Aska - Halo, Halo (14th place, 21 points)
15. Israel: Avi Toledano - Hora (2nd place, 100 points)
16. The Netherlands: Bill van Dijk - Jij en ik (16th place, 8 points)
17. Ireland: The Duskeys - Here today gone tomorrow (11th place, 49 points)
18. Germany: Nicole - Ein bißchen Frieden (1st place, 161 points)
The Eurovision Song Contest 1982 was the 27th Eurovision Song Contest and was held on April 24 1982 in Harrogate, North Yorkshire, United Kingdom. The presenter was Jan Leeming. The opening of the contest showed a map of Europe, with the translation "Where is Harrogate?" popping up on-screen from the languages of the various countries. Then the map zoomed into Harrogate's location in Yorkshire, followed by an introduction video spotlighting the town.
The German entrant, Nicole, was the winner of this contest with the song, Ein bißchen Frieden. Germany got 1.61 times as many points as runner-up Israel, which was a record under the current scoring system until 2009, when Norway got 1.78 times as many points as Iceland. The song also cemented Ralph Siegel and Bernd Meinunger, the song's composers, into German Eurovision tradition, writing 18 Eurovision songs between them before and after Ein bißchen Frieden, 13 of which were for Germany.
Format
This was the first time that Germany won the contest. It has competed every year since the contest's inception. Germany won again in 2010, twenty-eight years after their first win.
The most notible thing about the other entries was that they were all performed by acts with short names. Twelve of the performers had one-word names, and five of those names haf only four letters in them. The song titles ranged from the two letters of the Spanish El, through Israel's second-placed Hora and Turkey's Hani to Ireland's Here today gone tomorrow, the longest title at just twenty-one letters.
The Dutch entry Jij en ik was written by Dick Bakker, who had won in 1975 with Ding-A-Dong. Jij en ik came only 16th.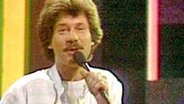 Voting structure
Each country had a jury who awarded 12, 10, 8, 7, 6, 5, 4, 3, 2, 1 points for their top ten songs.
Germany had the advantage of performing last. After coming second in 1980 and second in Dublin the year previously, Ralph Siegel and Bernd Meinunger took the first Grand Prix for Germany. The winner, Nicole, beat the nearest competition by 61 points and over 13 million West Germans watched her victory on television. Germany was the commanding leader for nearly the entire voting process.
Nicole went on to sing the reprise of her song in English, French and Dutch, as well as German, to the delight of the invited audience in Harrogate Conference Centre who stood to applaud her. The English version of her Eurovision winner, A Little Peace, subsequently shot to No1 in the UK Singles Chart.
Participating countries
Greece was due to participate in the contest with the song Sarantapente Kopelie performed by Themis Adamantidis. Although drawn to perform in second place, ERT withdrew the entry a few weeks before the contest.
After coming 3rd in 1981, the French declared that the contest was a monument to drivel and refused to take part.
Returning artists
Seven artists returned to the contest this year. Stella Maessen, performing for Belgium, represented the Netherlands in 1970 as a member of Patricia and Hearts of Soul and in 1977 she represented Belgium as a member of Dream Express. Anna Vissi, who represented Cyprus, performed for Greece in 1980. Anita Skorgan participated in 1977 and in 1979 before performing in 1982 for Noway together with Jahn Teigen, who came last on behalf of Norway in 1978. Fatima Padinha and Teresa Miguel, both member of the Portuguese group Doce, were also members of the Portuguese entry in 1978, Gemini. Sally Ann Triplett, member of Bardo, represented the UK in 1980 as a member of Prima Donna.