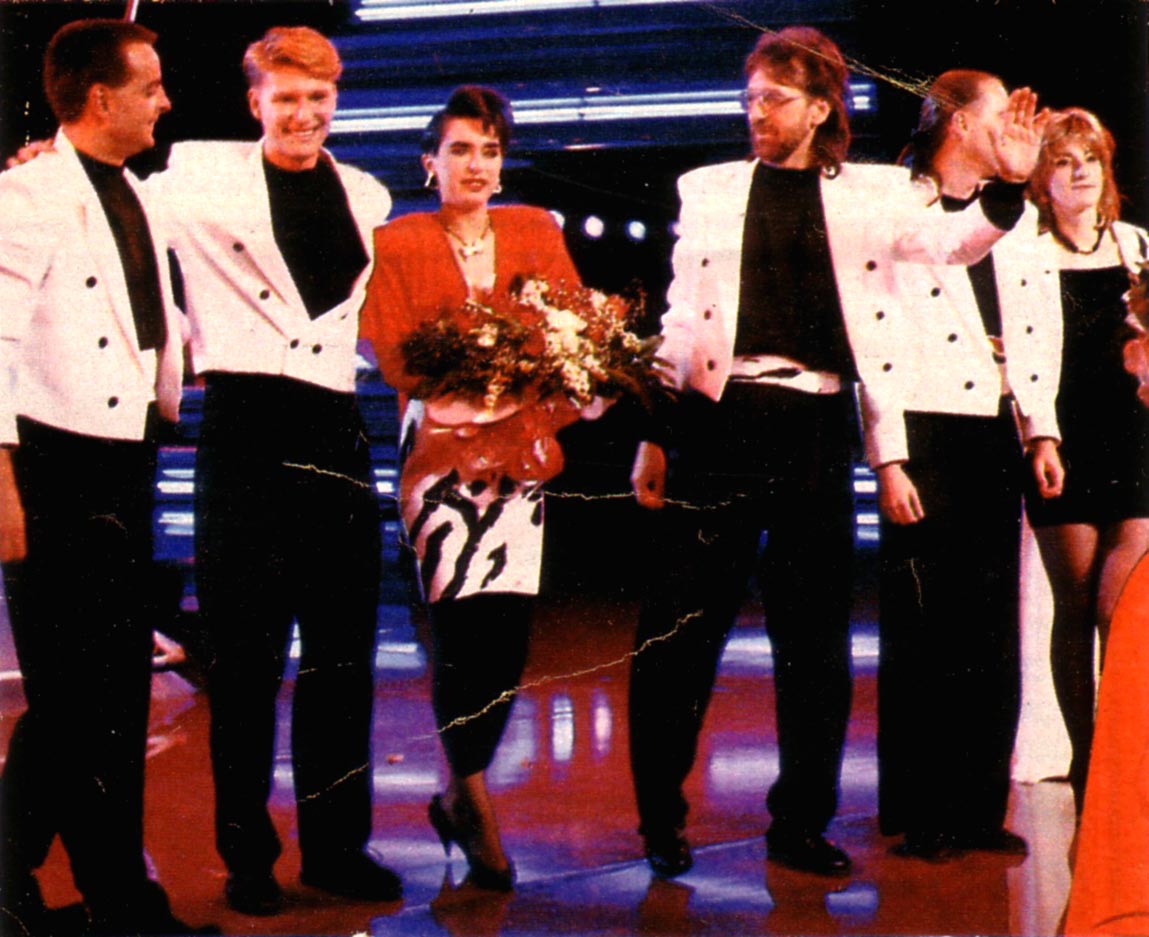 Date: May 6, 1989
Venue: Palais de Beaulieu, Lausanne, Switzerland
Presenters: Jacques Deschenaux, Lolita Morena
Orchestra: Benoit Kaufman orchestra
Conductor: Benoit Kaufman
Director: Alain Bloch, Charles-André Grivet
Scruteneer: Frank Naef
Host broadcaster: SRG/SSR
Price presenter: Céline Dion, Cindy Eschbach
Interval act: Guy Tell, a Wilhelm Tell act.
Duration: 3 hours, 10 minutes
Number of entries: 22
Debuting countries: -
Returning countries: -
Withdrawing countries: Cyprus
Winning Song: Rock me - Riva, Yugoslavia
Voting system: Each country awarded 12, 10, 8-1 points to their 10 favourite songs
Entries
01. Italy: Anna Oxa & Fausto Leali - Avrei voluto (9th place, 56 points)
02. Israel: Gili & Galit - Derekh hamelekh (12th place, 50 points)
03. Ireland: Kiev Conolly & the Missing Passengers - The real me (18th place, 21 points)
04. The Netherlands: Justine Pelmelay - Blijf zoals je bent (15th place, 45 points)
05. Turkey: Pan - Bana bana (21st place, 5 points)
06. Belgium: Ingeborg - Door de wind (19th place, 13 points)
07. UK: Live Report - Why do I always get it wrong (2nd place, 130 points)
08. Norway: Britt Synnøve Johansen - Venners nærhet (17th place, 30 points)
09. Portugal: Da Vinci - Conquistador (16th place, 39 points)
10. Sweden: Tommy Nilsson - En dag (4th place, 110 points)
11. Luxembourg: Park Café - Monsieur (20th place, 8 points)
12. Denmark: Birthe Kjær - Vi maler byen rød (3rd place, 111 points)
13. Austria: Thomas Forstner - Nur ein Lied (5th place, 97 points)
14. Finland: Anneli Saaristo - La dolce vita (7th place, 76 points)
15. France: Nathalie Pâque - J'ai volé la vie (8th place, 60 points)
16. Spain: Nina - Nacida par amar (6th place, 88 points)
17. Cyprus: Fani Polymeri & Yiannis Sawidakis - Apopse as vrethoume (11th place, 51 points)
18. Switzerland: Furbaz - Viver senza tei (13th place, 47 points)
19. Greece: Marianna Efstratiou - To dhiko su asteri (9th place, 56 points)
20. Iceland: Daníel Ágúst Haraldsson - Það sem enginn sér (22nd place, 0 points)
21. Germany: Nino de Angelo - Flieger (14th place, 46 points)
22. Yugoslavia: riva - Rock me (1st place, 137 points)
The Eurovision Song Contest 1989 was the 34th Eurovision Song Contest and was held on May 6 1989 in Lausanne, Switzerland. Switzerland gained the hosting rights after Celine Dion's victory in Dublin the previous year. The presenters were Lolita Morena and Jacques Deschenaux. Riva was the winner of this Eurovision with the song, Rock Me, representing Yugoslavia. This was the only victory for Yugoslavia as a unified state. Rock me was written by Rajko Dujmić and Stevo Cvikić . The song was performed in Serbo-Croatian, however during the winners' encore lead vocalist Emilija Kokić sang the song in English.
Format
The previous year's winner, Celine Dion, opened the show with a live performance of her winning song and a mimed performance of her first English-language single, Where Does My Heart Beat No". The song went on to become a top ten hit in the US a year later - effectively launching her into international success.
United Kingdom's Ray Caruana, lead singer with Live Report was outspoken about coming second to what he considered a much less worthy song. They had been beaten by 7 points.
Two of the performers, Nathalie Pâque and Gili Natanael were respectively 11 and 12 years old at their time of competing. Due to bad publicity surrounding their participation, the European Broadcasting Union introduced the rule stating no performer is allowed to take part before the year of their 16th birthday.
Dieter Bohlen was the composer of both the German and the Austrian song. Both songs were performed without the use of the orchestra by using a backing track. After the show Dieter wasn't pleased at all with the results. The Austrian song came 5th but the German song finished in a very disappointing 14th place.
Lolita Morena, Céline Dion & Jacques Deschenaux
A glitch happened during Guy Tells perfomance during the interval act. The arrow crossbow chain reaction missed the apple scarce that the artist briefly turned away and covered the arrow stuck in the apple. As a slow-motion then the successful attempt of the sample was shown.
Returning artists
This was the first year since 1970 in which no returning artist were present at the contest. Altough Justine Pelmelay was the year before backgroundsinger for Gerard Joling. Søren Bundgaard, member of Hot Eyes (ESC 1984, 1985, 1988), and Henrik Krogsgaard were backroundsingers for Birthe Kjær. Henrik Krogsgaard was also the conducter for the the Danish entry but he gave the baton halfway through the performance to Benoit Kaufman. Marianna Efstratiou, who was the Greek participant, was in a backing vocalist in 1987 for the group Bang.