Date: November 26 2005
Venue: Ethias Arena, Hasselt, Belgium
Presenters: Marcel Vanthilt, Maureen Louys
Host broadcaster: RTBF/VRT
Interval act: Cirque du Soleil, María Isabel peforming Antes muerta que sencilla and Pues Va A Ser Que No
Number of entries: 16
Debuting countries: Russia, Serbia and Montenegro
Returning coubtries: -
Withdrawing countries: Cyprus, France, Poland, Switzerland
Voting system: Each country awards 1-8, 10, and 12 points to their 10 favourite songs
Winner: My vmeste - Ksenia Sitnik, Belarus
Entries
01. Greece: Alexandros and Kalli - Tora einai i seira mas (6th place, 88 points)
02. Denmark: Nicolai - Shake shake shake (4th place, 121 points)
03. Croatia: Lorena Jelusić - Rock Baby (12th place, 36 points)
04. Romania: Alina Eremia - Țurai! (5th place, 89 points)
05. UK: Joni Fuller - How does it feel? (14th place, 28 points)
06. Sweden: M+ - Gränslös kärlek (15th place, 22 points)
07. Russia: Vladislav Krutskikh - Doroga k solntsu (9th place, 66 points)
08. F.Y.R. Macedonia: Denis Dimoski - Rodendeski baknež (8th place, 68 points)
09. The Netherlands: Tess - Stupid (7th place, 82 points)
10. Serbia and Montenegro: Filip Vučić - Ljubav pa fudbal (13th place, 29 points)
11. Latvia: Kids4Rock - Es esmu maza jauka meitene (11th place, 50 points)
12. Belgium: Lindsay - Mes rêves (10th place, 63 points)
13. Malta: Thea & Friends - Make it right (16th place, 18 points)
14. Norway: Mailin Reitan - Sommer og skolefri (3rd place, 123 points)
15. Spain: Antonio José - Te tragio flores (2nd place, 146 points)
16. Belarus: Ksenia Sitnik - My vmeste (1st place, 149 points)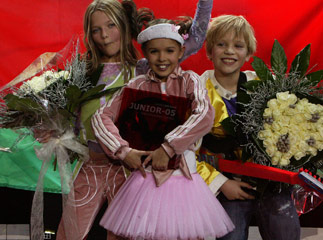 Format
The Junior Eurovision Song Contest 2005 was the third Junior Eurovision Song Contest for young singers aged 8 to 15. On November 26 2005, the contest was broadcast live from the Ethias Arena in Hasselt, Belgium, in a joint effort by the national broadcasters Vlaamse Radio- en Televisieomroep (VRT) and Radio télévision belge de la communauté française (RTBF), in co-operation with the European Broadcasting Union. Belgium won the right to hold the contest over five other countries including Croatian Radiotelevision (HRT) of Croatia and AVRO of the Netherlands. Marcel Vanthilt and Maureen Louys hosted the event.
The show was not only broadcast live in the competing countries, it was also available on satellite worldwide and the Australian television channel SBS who acquired the rights to broadcast the show one month later.
As many as twenty countries could have participated in this contest: Cyprus should have taken part but on October 13, Cypriot broadcaster Cyprus Broadcasting Corporation (CyBC) announced their withdrawal after questions arose over the song's origins, with complaints stating that the song they had chosen appeared to be plagiarism. This did not affect their ability to take part in the voting. In addition, Lithuania and Ukraine had planned on entering but later withdrew. Georgia had also wanted to appear but missed the participation deadline for the contest.
The public broadcasters of Switzerland and Poland didn't send candidates for financial reasons. France didn't join because of restructuring within the channel. Russia and Serbia and Montenegro made their debut in the competition this year.
The theme of the show was 'Let's Get Loud', standing for the new generation on the stage.
The show was watched by 8,500 people in the Arena, including the Belgian Prince Laurent and 20-25 million people around Europe.
Belarus was the winner of this edition, with 10-year old Ksenia Sitnik singing her song My vmeste.
Acts
The show opened with fireworks and bungee jumpers.
As surprise act the young Vladik Myagkostupov from the famous Cirque du Soleil showed his juggling abilities in a four minute performance while people were voting during the interval. While the votes were being counted, the Spanish María Isabel, performed a medley from the song with which she won the Junior Eurovision Song Contest 2004 and some of the numbers from the album she had recently released. She also presented the trophy to the winner.