Date: December 8 2007
Venue: Ahoy, Rotterdam, The Netherlands
Presenters: Sipke Jan Bousema, Kim-Lian van der Mey
Host broadcaster: AVRO
Opening act: 60 young dancers performing One World
Interval act: Ksenia Sitnik,
Break-dancing + traditional Romanian dancing and a remix of the last 3 Romanian participants at JESC.
Number of entries: 17
Debuting countries: Armenia, Bulgaria, Georgia, Lithuania
Returning coubtries:
Withdrawing countries: Croatia, Spain
Voting system: Each country awards 1-8, 10, and 12 points to their 10 favourite songs
Winner: S druz'yami - Alexey Zhigalkovich, Belarus
Entries
01. Georgia: Mariam Romelashvili - Odelia ranuni (4th place, 116 points)
02. Belgium: Trust - Anders (15th place, 19 points)
03. Armenia: Arevik - Erazang (2nd place, 136 points)
04. Cyprus: Yiorgos Loannides - I mousiki dinei ftera (14th place, 29 points)
05. Portugal: Jorge Leirira - Só quero é cantar (16th place, 15 points)
06. Russia: Alexandra Golovchenko - Otlichnitsa (6th place, 105 points)
07. Romania: 4Kids - Sha-la-la (10th place, 54 points)
08. Bulgaria: Bon-Bon - Bonbonlandiya (7th place, 86 points)
09. Serbia: Nevena Božović - Piši mi (3rd place, 120 points)
10. The Netherlands: Lisa, Amy & Shelly - Adem in adem uit (11th place, 39 points)
11. F.Y.R. Macedonia: Rosica Kulakova & Dimitar Stojmenovski - Ding Ding Dong (5th place, 111 points)
12. Ukraine: Ilona Galitska - Urok hlamuru (9th place, 56 points)
13. Sweden: Frida Sandén - Nu eller aldrig (8th place, 83 points)
14. Malta: Cute - Music (12th place, 37 points)
15. Greece: Made In Greece - Kapou mperdeftika (17th place, 14 points)
16. Lithuania: Lina Joy - Kai miestas snaudžia (13th place, 33 points)
17. Belarus: Alexey Zhigalkovich - S druz'yami (1st place, 137 points)
Format
The Junior Eurovision Song Contest 2007 was the fifth edition of the Junior Eurovision Song Contest. It was held in the Ahoy' indoor sporting arena in Rotterdam, the Netherlands on December 8. The host country was chosen by the European Broadcasting Union (EBU) on July 13 2006. The host city was announced on 11 September 2006. AVRO won the rights to host the show over Hrvatska radiotelevizija (HRT) of Croatia (who didn't actually participate in this contest) and the Cyprus Broadcasting Corporation (CyBC) of Cyprus. The budget for the contest was stated to be more than €2,000,000.
Belarus won the Contest by a single point over Armenia. The winning performer was Alexey Zhigalkovich, singing "S druzyami" (With friends). This was Belarus' second win; they won for the first time in 2005. This is the only contest to date where the winning song did not receive points from all of the participating countries.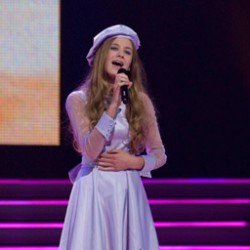 Participants
Patricia Goldsmith, Communications Adviser of the Eurovision TV department, stated that "18 countries will take part" in the Junior Eurovision Song Contest 2007 though Spanish broadcaster Radiotelevisión Española (RTVE) later announced its withdrawal from the contest.
Armenia, Bulgaria, Georgia and Lithuania were the newcomers this year. Bosnia and Herzegovina was going to be one of the four débutants but Georgia took this place when Radiotelevizija Bosne i Hercegovine (BHRT) decided to withdraw from participation.
The minimum age of contestants was raised from 8 to 10 years this year.