Date: December 22 2008
Venue: Spyros Kyprianou Athletic Centre, Lemesos, Cyprus
Presenters: Alex Michael, Sophia Paraskeva
Host broadcaster: CyBC
Opening act: Dance act featuring Yiorgos Ioannides and Mariam Venizelou.
Interval act: Dima Bilan, Evridiki & Dimitris Korgialas, all JESC 2008 participants singing Hand in Hand
Number of entries: 15
Debuting countries: -
Returning coubtries: -
Withdrawing countries: Portugal, Sweden
Voting system: Citizens of each participating country vote by telephone and SMS message, which counts for 50%. Each country's 10 favourites are awarded 1 to 8, 10 and 12 points based on the number of votes. Results 1-5 are automatically displayed on-screen, then each country announces 6-8, 10 and 12 points. A jury in each country also has a 50% say in the outcome.
Winner: Bzz.. - Bzikebi, Georgia
Entries
01. Romania: Mădălina & Andrada - Salvaţi planeta! (9th place, 58 points)
02. Armenia: Monica - Im Ergi Hnchyune (8th place, 59 points)
03. Belarus: Dasha, Alina & Karyna - Sertse Belarus (6th place, 86 points)
04. Russia: Mihail Puntoc - Spit angel (7th place, 73 points)
05. Greece: Niky Yiannouchu - Kapoia nychta (14th place, 19 points)
06. Georgia: Bzikebi - Bzz.. (1st place, 154 points)
07. Belgium: Oliver - Shut up (11th place, 45 points)
08. Bulgaria: Krastyana Krasteva - Edna mechta (15th place, 15 points)
09. Serbia: Maja Mazić - Uvek kad u nebo pogledam (12th place, 37 points)
10. Malta: Daniel Testa - Junior swing (4th place, 100 points)
11. The Netherlands: Marissa - 1 dag (13th place, 27 points)
12. Ukraine: Victoria Petryk - Matrosy (2nd place, 135 points)
13. Lithuania: Eglė Jurgaitytė - Laiminga diena (3rd place, 103 points)
14. F.Y.R. Macedonia: Bobi Andonov - Prati mi SMS (5th place, 93 points)
15. Cyprus: Elena Mannouri & Charis Savva - Gioupi gia (10th place, 46 points)
Format
The Junior Eurovision Song Contest 2008 was the sixth Junior Eurovision Song Contest, which is the world's largest song contest for children. It was held at the Spyros Kyprianou Athletic Centre in Lemesos, Cyprus and hosted by Alex Michael and Sophia Paraskeva. It was won by the Georgian trio Bzikebi, with the song Bzz... This is the first song to win any Eurovision Song Contest in an imaginary language. Ukraine took 2nd place and Lithuania finished 3rd.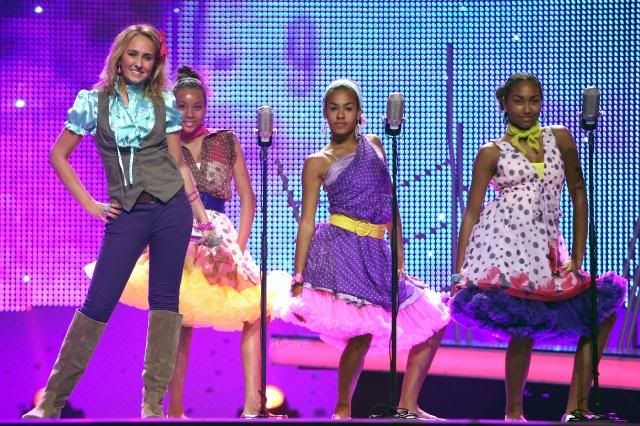 The theme of the event was Fun in the Sun, despite the fact that there were thunderstorms in Lemesos the day of the contest. The stage, which was designed by George Papadopoulos was nominated for the prestigious international Live Design Excellence Awards. The design is an abstract composition and consists of a round stage representing the island of Cyprus, real water along the front of the stage, two jetties, the waves breaking and moving away from the island and five sailing boats with oars.
For the contest, various changes to the rules were made. One was that adults could assist children to write the songs submitted to their national broadcaster; previously only children could write the songs, with no assistance from adults. Another change was only six people could be on stage during a performance, instead of eight. The most significant change, however, was only half of the vote was decided by the tele-voters. Before the 2008 contest tele-voters completely decided the whole result. The other half of the result was decided by a jury of adults and children.
On May 27, 2007 the Eurovision Steering Group decided to award CyBC of Cyprus to host the 2008 contest, over TV4 of Sweden and NTU of Ukraine. On 10 September 2008 the hosts were announced as Alex Michael and Sophia Paraskeva; both presenters with Cypriot backgrounds. On 13 October 2008 the draw of the running order took place live on CyBC1. This involved drawing the first and last countries and performers, and then drawing countries into various 'pots' to decide when they would perform. The full running order was announced on 14 October 2008. The stage was constructed between 30 October 2008 and 14 November 2008.
Voting
As in all previous Eurovision Song Contests each country gave their top 10 countries songs points from 1 point for their 10th favourite song up until 8 points for their 3rd favourite song. Then 10 and 12 points were given for the second favorite and favorite respectively. But, the difference between this contest and other past contests is this is the first Eurovision Song Contest that implements a jury vote that counts for half of each countries vote.
Only Ukraine calculated their vote using a jury. Ukrainian broadcaster NTU opted not to broadcast the contest live, but to air it deferred on Sunday, November 23 as Saturday, November 22 is Holodomor Remembrance Day in the country.

Participating countries
Fifteen countries took part in the Junior Eurovision Song Contest: Armenia, Belarus, Belgium, Bulgaria, Cyprus, Macedonia, Georgia, Greece, Lithuania, Malta, Netherlands, Romania, Russia, Serbia, and Ukraine. Portugal, which had taken part twice since 2006 announced that it was no longer interested in the contest and withdrew along with Sweden, a founding country in 2003, which left because of other broadcasting plans during the time of the event. On the other hand, Israel and Bosnia & Herzegovina announced their intention to participate, but both decided to withdraw before the contest. Azerbaijan announced its intention to take part also, but withdrew from the contest in early October. According to İctimai Televiziya və Radio Yayımları Şirkəti, the network was unable to select and prepare children for such a high scale event without proper help from other governmental structures and bodies. The broadcaster also confirmed payment of a fine to the EBU due to its late withdrawal. Poland had also considered participation but decided that it would not take part this year. The 2008 contest was the first Junior Eurovision Song Contest to have no debuting countries.