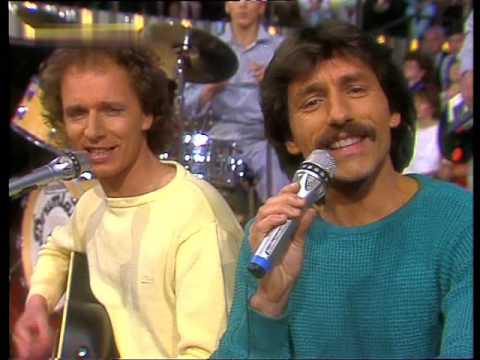 Germany was represented by duo Hoffmann & Hoffmann, with the song Rücksicht, at the 1983 Eurovision Song Contest, which took place on April 23 in Munich, following Nicole's victory for Germany in 1982. Rücksicht was the winner of the German national final, held on 19 March.
Before the final there were 2 semi-finals. The German semi-final was broadcast on several radio stations, and around 500 people were selected by a German polling institute to select the 12 finalists. The semi-final was in two separate parts which were broadcast on different days.
The final was held at the Bayerischer Rundfunk TV studios in Munich, hosted by Caroline Reiber. 12 songs took part and the winner was chosen by a panel of approximately 500 people who had been selected as providing a representative cross-section of the German public. Among the other participants were former German representative Wencke Myhre (1968) and future entrant Ingrid Peters (1986).
Results:
01. Rücksicht - Hoffmann & Hoffmann, 4251 points
02. Viva la Mamma - Ingrid Peters & July Paul, 3983 points
03. Mit siebzehn - Bernd Clüver, 3933 points
04. Ich mag dich - Costa Cordalis, 3902 points
05. Wir beide gegen den Wind - Wencke Myhre & Sohn Dani, 3752 points
06. Wie ein Mann - Peter Rubin, 3427 points
07. Ich reiß' alle Mauern ein - Leinemann, 3314 points
08. Warum hältst du mich nicht fest? - Angela Branca, 3222 points
09. Sternenland - Mara, 2987 points
10. Mein Hit heißt Susi Schmidt - Holger Thomas, 2609
11. Unendlich weit - Veronika Fischer, 2523 points
12. Angelo - Harry Belten, 2111 points
On the night of the final Hoffmann & Hoffmann performed 14th in the running order. At the close of voting Rücksicht had received 94 points (including a maximum 12 from Luxembourg), placing Germany 5th of the 20 entries.
Hoffmann & Hoffmann were a German singing duo consisting of brothers Michael Hoffmann (born 3 December 1950, Karlsruhe) and Günter Hoffmann (born 4 October 1951, Karlsruhe - died 15 March 1984, Rio de Janeiro, Brazil). They had several hits in Germany and are known for their participation in the 1983 Eurovision Song Contest.
The Hoffmanns' first success came in 1977 with the single Himbeereis zum Frühstück, a German version of the Bellamy Brothers' "Crossfire", which reached the top 20. They had four further minor charting singles in the next few years.
Rücksicht proved to be the biggest hit of the Hoffmanns' career, but did not translate into the lasting success the brothers had hoped for. Less than a year after their Eurovision appearance, Günter Hoffmann committed suicide, aged 32, by jumping from a hotel window in Rio de Janeiro on 15 March 1984.
Thereafter, Michael Hoffmann worked mainly as a producer and composer for artists including fellow Eurovision veterans Gitte Hænning, Wencke Myhre and Nicole. In 1987, he entered the German Eurovision heats as a solo singer with the song Ich geb' nicht auf, which finished fifth. He has since gone on to become a producer of spiritual and meditative music.