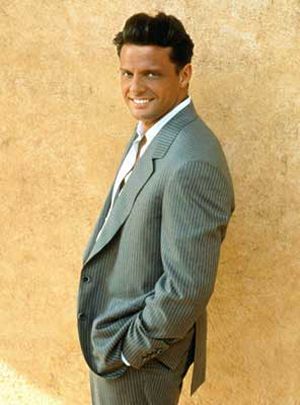 Luis Miguel Gallego Basteri (born on April 19, 1970) is a Mexican singer.
In 1981, Luis Miguel released his first album, Un Sol. Two years later he start touring Latin Americn countries like Colombia, Venezuela, Chile and Argentina.
In 1985 her took part at the Festival di Sanremo where he came 2nd with the song Noi Ragazzi Di Oggi which became a hit all over the world. That same year, he was also presented with the Antorcha de Plata Award in the Viña del Mar Music Festival for his duet single Me Gustas Tal Como Eres Sheena Easton. He also played in a couple of movies.
After this he became famous in Latin America, Italy and Spain. Luis released many successful albums and is still very popular.
Luis Miguel is considered as one of the top male pop singers worldwide today. In a career that has spanned over twenty-five years, he has become the main singer from Latin America, having performed successfully pop music, bolero, mariachi and romantic ballads. In the late 1980s, Luis Miguel made the transition from child star to consolidated international singer, and since then, he became one of the most revered and popular Latin American artists ever. His wide vocal range and performance has been praised by critics and other artists all over the world.