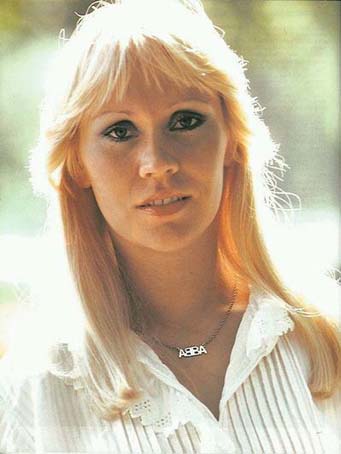 Agnetha Åse Fältskog was born on April 5 1950 in Jönköping, Småland, Sweden. She is a Swedish recording artist and entertainer. She became a famous name in Sweden after the release of her début album Agnetha Fältskog in 1968, and reached international stardom as a member of the pop group ABBA, which to date has sold over 375 million records worldwide, making them the fourth best selling music artist in history and the second best selling band in history.
In 1958 she started taking piano lessons, and also sang in a local church choir. In early 1960, Agnetha formed a musical trio, The Cambers, with her friends Lena Johansson and Elisabeth Strub. They performed locally in minor venues and soon dissolved because of a lack of engagements. At age 15, Agnetha decided to leave school and pursue a career. Agnetha worked as a telephonist for a car firm while performing with a local dance band. The band soon became so popular that she had to make a choice between her job and her musical career.
Her first single Jag var så kär topped the Swedish Chart in 1968 and sold more than 80.000 copies. She also submitted the song Försonade to Melodifestivalen, the Swedish pre-selection for the Eurovision Song Contest, but it was not selected for the final. Agnetha developed a career as one of Sweden's most popular pop music artist. Her success continued throughout the late 1960s.
In 1970, she released Om tårar vore guld which was perhaps her most successful song in Sweden before the ABBA period. In 1971, Fältskog portrayed Mary Magdalene in the Swedish production of the international musical hit Jesus Christ Superstar.
Agnetha met Björn Ulvaeus, a member of the Hootenanny Singers, in 1969. Her relationship with Björn, as well as her friendship with Anni-Frid Lyngstad and Benny Andersson, with whom Björn had already written songs, eventually led to the formation of ABBA. Agnetha and Björn married in 1971 in the village Verum, with Benny playing the organ at their wedding. The couple decided to separate in late 1978. The failure of their marriage inspired Björn to write The Winner Takes It All, one of ABBA's greatest hits.
In 1975 Agnetha recorded and produced her solo album Elva Kvinnor I Ett Hus. These albums were both recorded between sessions and promotion for the ABBA albums Waterloo and ABBA. Even though ABBA was already a number one act in Sweden by 1975, Agnetha's album failed to reach the Top 10 on the Swedish album charts, peaking at #11.
Between the years 1968 and 1980, Fältskog had a total of 18 hits in the Swedish charts and was therefore, by far the most successful solo artist of the four ABBA members, both before and during the band's international career.
Agnetha is also the only member of ABBA to have participated in Melodifestivalen again after having won Eurovision with Waterloo in 1974. In 1981 she wrote the ballad Men Natten Är Vår with lyrics by Ingela Forsman, but instead of performing the song in the contest herself, she chose new talent Kicki Moberg. Kicki came last.
In the 1980s, Agnetha released three English language solo albums. The records did well in Europe and Scandinavia.
At the end of 1982, she duetted with Swedish singer (and former ABBA backing vocalist) Tomas Ledin a song called Never Again, which became a Top Five hit in Sweden, Norway, Belgium, and South America. The song was also released in a Spanish language version, entitled Ya Nunca Más. In the summer of the same year, Agnetha starred in the Swedish movie Raskenstam, and received positive reviews for her film début. The film was also a blockbuster hit in Sweden.
In May 1983, Agnetha released her first post-ABBA solo album, Wrap Your Arms Around Me. The album became a moderate hit in North America and Australia, and reached the higher regions of the charts across Europe.
The same year, Agnetha was voted by the readers of Aftonbladet as Best Female Artist Of The Year, and received the Music Award Price Rockbjörnen.
Her next album, Eyes of a Woman, produced by Eric Stewart of 10cc , was released in March 1985. The album sold well in parts of Europe, reaching No. 2 in Sweden and the Top 20 in Norway and Belgium, but failed to match the success of Wrap Your Arms Around Me.
Her next album, Eyes of a Woman, produced by Eric Stewart of 10cc fame, was released in March 1985. The album sold well in parts of Europe, reaching No. 2 in Sweden and the Top 20 in Norway and Belgium, but failed to match the success of Wrap Your Arms Around Me.
In 1986, Fältskog recorded another duet, The Way You Are, with Swedish singer Ola Håkansson, which became another No. 1 hit in Sweden. In mid-1987, Agnetha travelled to Malibu, California, to record the album I Stand Alone, produced by Peter Cetera and Bruce Gaitsch. Released in November of that year, it was a minor hit in Europe, except for Sweden where it spent eight weeks at No. 1 and became the biggest selling album of 1988 and entering the Top 15 in Norway. The single from the album, I Wasn't The One (Who Said Good-Bye), on whichAgnetha duetted with Peter Cetera, was released primarily in North America, and became her second solo single to chart on the Billboard Hot 100 (No. 93).
After the release of I Stand Alone in mid-1988 Fältskog took a break from her musical career and completely withdrew from public life.
In April 2004, Agnetha released a new single, If I Thought You'd Ever Change Your Mind. It reached No. 2 in Sweden, No. 11 in the UK, and became a sizeable hit throughout Europe. A few weeks later, the album My Colouring Book, a collection of Agnetha's covers of 1960s classic oldies, was released, topping the charts in Sweden, hitting the Top Five in Finland and Denmark, No. 6 in Germany and peaking at No. 12 in the UK. Shortly after this release, Agnetha appeared briefly in a special comedy video made for the interval act of the ESC 2004, entitled Our Last Video. It was billed as the first time the four had worked together since the group split. In fact, they each filmed their appearances separately.
In January 2007, Fältskog appeared at the final performance of Mamma Mia! in Stockholm (as she had at its opening in 2005). Together with ex-husband Björn, she appeared on stage at the after show party held at Stockholm's Grand Hotel. She also sang a duet, "True Love," with Tommy Körberg of Chess.
In 2008, Agnetha joined former colleagues Anni-Frid Lyngstad, Björn Ulvaeus and Benny Andersson at the Swedish premiere of the film version of Mamma Mia!, held at the Rival Theatre in Stockholm.
In October 2010, Agnetha was at the opening of Mamma Mia! the musical in Denmark with former husband Björn.